Rookies are the weakest enemies in the game of Tiny troopers Special ops and are commonly seen throughout Operation Unicorn and Operation Silent Storm.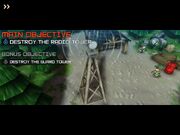 Rookies are armed with Ak47s and also they do not have any armor to help them survive against a player's Assault, however their lack of health is compensated when fighting together in large groups so caution is advised when they start advancing in numbers.
Rookies are depicted as Communists soldiers of Cuba during the Cold War in when Fidel Castro was the leader of the Cuban society.